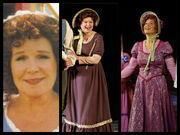 Tante Bassa driver Tante Bassas Vertshus.
Vertshuset ligger like ved Rubens hus et stykke utenfor landsbyen i Kjuttaviga. Tante Bassa er en snill og frodig dame som er overbevist om at Ruben er den stiligste mannen i hele verden. Hennes store hemmelighet er oppskriftene som har vært i familien i generasjoner.
Men hun frykter Kongen på Havet. Hun vil mye heller gi avkall på alle skatter som finnes enn å risikere å bli utsatt for Kaptein Sabeltanns raseri.
Skuespillere
Edit
Eksterne lenker
Edit
Ad blocker interference detected!
Wikia is a free-to-use site that makes money from advertising. We have a modified experience for viewers using ad blockers

Wikia is not accessible if you've made further modifications. Remove the custom ad blocker rule(s) and the page will load as expected.