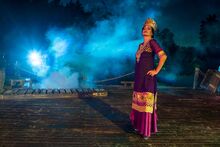 Sirikit er Maga Khans dronning. Hun viker sjelden fra sin fyrstes side, følger ham og gjør hva som helst for at han skal nå sine mål. Sirikit kan også handle på egen hånd. Hun kan forandre personlighet fullstendig, inndyde seg og virke svært sjarmerende dersom det blir nødvendig. Bak masken er hun sadistisk og giftig som en slange.
Skuespillere
Edit
Eksterne lenker
Edit
Ad blocker interference detected!
Wikia is a free-to-use site that makes money from advertising. We have a modified experience for viewers using ad blockers

Wikia is not accessible if you've made further modifications. Remove the custom ad blocker rule(s) and the page will load as expected.