REDIRECT Template:Skuespiller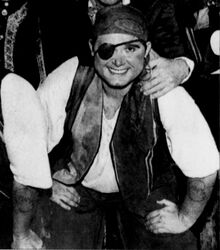 Ole-Hermann Gudim Lundberg (født 16. juli 1964), er en norsk regissør og skuespiller fra Fredrikstad.
I 1986 var han gründer av Fredrikstad Barne- og Ungdomsteater, og i 2007 startet han «Plankebyen Ungdomsteater». I 2008 startet han «Sceneteppe», en sammenslutning av etablerte barne- og ungdomsteatre i Fredrikstad. Han har vært kunstnerisk leder for de aller fleste oppsetningene til Fredrikstad Barne- og Ungdomsteater (som blant annet «Oliver», «Olsenbanden på Sirkus», «Olsenbanden på Rockern», «Jungelboken», «Pinocchio»).
Som regissør har han flere titals større produksjoner bak seg. men benyttes også som skuespiller i alt fra farser, revyer, teater, musikaler, events, film og TV.
I Kaptein Sabeltann
Edit
I 1995 spilte han rollen som Pysa Pirat i forestillingen Kaptein Sabeltann og Grusomme Gabriels Skatt.
Lundberg fikk vite to dager før premieren at han skulle spille Pysa og måtte lære seg manuset som han fikk via faks på den korte tiden.
Eksterne lenker
Edit
Ad blocker interference detected!
Wikia is a free-to-use site that makes money from advertising. We have a modified experience for viewers using ad blockers

Wikia is not accessible if you've made further modifications. Remove the custom ad blocker rule(s) and the page will load as expected.