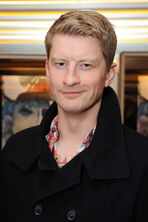 Odd-Magnus Williamson (født 14. september 1980) er en norsk tekstforfatter, komiker og skuespiller. Han er oppvokst på Nordstrand i Oslo
Han er kjent fra ICA-reklamene, Manshow og Torsdag kveld fra Nydalen. Sammen med Bjarte Arneson driver han twitterkontoen @kongendin i Harald Vs navn. Sammen med Sindre W. Goksøyr ga han i 2012 ut boken Kongen Din. Han spiller Tina i filmen: Tina og Bettina the movie. Han har også medvirket i filmer som "Hjelp, vi er i filmbransjen" og "Kon-Tiki".
I Kaptein Sabeltann
Edit
I Kaptein Sabeltann-universet har Williamson spilt rollen som Langemann i storfilmen Kaptein Sabeltann og skatten i Lama Rama som hadde premiere september 2014.
Ad blocker interference detected!
Wikia is a free-to-use site that makes money from advertising. We have a modified experience for viewers using ad blockers

Wikia is not accessible if you've made further modifications. Remove the custom ad blocker rule(s) and the page will load as expected.