Miriam av Gral er heks og trollkvinne med tryllestav, svartebok og et forhekset hus, ikke langt fra grevens Borg og er satt til å vokte alle hans dyrebare skatter. I hennes forheksede hus hyler og knirker det fra alle de mørke krokene og det stiger giftig røyk opp fra Den Sorte Gryte.
Grevens største helligdom er Den Gylne Tiger. Miriam vet at hennes liv vil henge i en tynn tråd dersom den blir borte!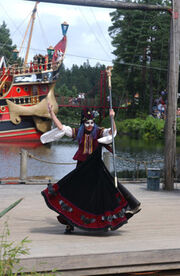 Navnet Miriam kommer fra moren til Terje Formoe, som het Miriam til mellomnavn. Janne skulle egentlig spille Miriam i 2007, men takket nei grunnet et annet tilbud.
Eksterne lenker
Edit
Ad blocker interference detected!
Wikia is a free-to-use site that makes money from advertising. We have a modified experience for viewers using ad blockers

Wikia is not accessible if you've made further modifications. Remove the custom ad blocker rule(s) and the page will load as expected.