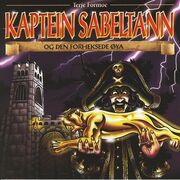 Kaptein Sabeltann Og Den Forheksede Øya" er en musikk-CD med med fortelling som ble utgitt i 2000. Den ble utgitt av Grappa Musikkforlag AS. Utgivelsen innholder alle sangene fra teaterstykket som ble spilt samme år i Krisitansand Dyrepark. Utgivelsen er innspilt i Cross Lydstudio, Kristiansand i 1999 og 2000. Mikset i PUK studio, Danmark april/mai 1999 og i Cross Lydstudio april 2000. Dialogen er innspilt i Oslo Lydstudio 29 mars. 2000.
Sporliste
Edit
1. Overture til et nytt årtusen (0:40)
2. Livet er herlig!  (4:19)
3. Pelle og Pysas duell (2:43)
4. Du og jeg (4:12)
5. Grevens sang  (3:43)
6. Grevens gribber  (3:04)
7. Sjørøverrock (2:48)
8. Ai, ai, kæpten!  (3:25)
9. Heksesangen  (3:11)
10. Miriams sang  (4:11)
11. For full seil  (3:06)
Produsenter: Alf Emil Eik og Terje Formoe
Arrangør: Alf Emil Eik og Erik Gunvaldsen
Tekniker: Alf Emil Eik
Innspillt i Cross Lydstudio, Kristiansand.
Kor: Per Øystein Sørensen og Marian Lisland (2, 4 5, 9, 10)
Sjørøverkor: Terje Formoe og Alf Emil Eik
Ottar Nesje: slagverk
Per Elias Drabløs: bass
Rolf Kristensen: Aukustisk gitar, el.gitar, mandolin og bouzouki
Helge Rimestad: Fele (3, 7, 11)
Hans Graasvold: Banjo (3,11) ak. gitar (11)
Reidar Møsland: Tin wisthle (11)
Alf Emil Eik: bass/keyboard/programmering
Erik Gunvaldsen: keyboard
Medvirkende
Edit
Kaptein Sabeltann: Terje Formoe (spor 2, 8, 11)
Langemann: Audun Meling (spor 7)
Pelle og Pysa: Ingolf Karinen og Knut Haugmark (spor 3)
Sunniva: Hanne Nyborg Abrahamsen (spor 4, 10)
Miriam av Gral Janne Formoe (spor 9)
Greven av Gral: Geir Atle Johnsen (spor 5)
Grevens Gribber: Helen Vikstvedt, Anders Baasmo Christiansen og Jan Gunnar Røise (spor 6)
Layout på booklet og cover
Edit
Tegninger og illustrasjoner: Morten Myklebust, Fantastifabrikken AS
Layout: Marit Brandvold
Foto: Maren Anne Terjesen (side 2) Terje Formoe (side 3) Jan Harald Rismyhr (side 2, 4, 6)
Ad blocker interference detected!
Wikia is a free-to-use site that makes money from advertising. We have a modified experience for viewers using ad blockers

Wikia is not accessible if you've made further modifications. Remove the custom ad blocker rule(s) and the page will load as expected.