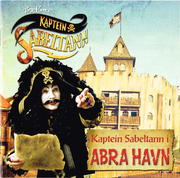 Kaptein Sabeltann i Abra Havn er en musikk-CD som ble utgitt 19. oktober 2012.
Den inneholder helt nye sanger, stort sett med tema fra Abra Havn.
Sporliste
Edit
1." Er du klar?"  (2:59)
2. "Abra Havn"  (3:22)
3. "Olivers reise"  (3:12)
4. "Når jeg endelig kommer hjem"  (3:20)
5. "Helt alene i verden"  (3:40)
6. "Vi står sammen"  (3:46)
7. "Min vakreste drøm " (2:41)
8. "Bysseguttblues"  (3:42)
9. "Savner deg"  (3:28)
10. "En liten sang til en venn"  (2:54)
11. "Takk og farvel"  (2:25)
12. "Kongens sang " (3:18)
Produsenter: Alf Emil Eik og Terje Formoe
Lydtekniker: Roald Råsberg
Tekniker miks "Er du klar?": Alf Emil Eik
Arrangør: Alf Emil Eik
Strykearr.: Pete Knutsen, Allegro Music (spor 5, 7, 10)
Innspilt og mikset i Sanden Studio, Kristiansand.
"Er du klar?" mikset i San Chaubrand, Frankrike.
Medvirkende
Edit
Kaptein Sabeltann: Terje Formoe (spor 1, 6, 8, 12)
Langemann: Håvard Bakke (spor 4)
Pinky: Max August Key Graarud (spor 5, 8)
Sunniva: Johanne Regine Svendsberget (spor 10)
Terje Formoe: (spor 2, 3, 7, 9, 11)
Koring:
Anne Takle, Hilde Norbakken, Alf Emil Eik
Div. sjørøverkor:
Alf Emil Eik og Terje Formoe
Alf Emil Eik: Keyboards, perc, el. gitar, mandola, trekkspill.
Per Hillestad: Slagverk, perc
Per Elias Drabløs: Bass
Bernt Rune Stray: Ak. gitar, el. gitar, ukulele, mandolin.
Bjørn Charles Dreyer: Ak. Gitar, el. gitar, steelgitar, barritongitar
Torjus Vierli: Orgel, el. piano, flygel.
Hans Fredrik Jacobsen: Fløyter (spor 1, 2, 3)
Hege Rimestad: Fele  (spor 8, 11)
Stein Henning Berg: Banjo  (spor 11)
Strykekvartett:
Lars Lunde: 1. fiolin
Ida Kristine Hansen: 2. fiolin
Kjell Åge Stoveland: Bratsj
Jasper Havelaar: Cello
Layout Cover og Booklet
Edit
Foto cover: Arild Danielsen og Ole Martin Buene
Øvrige foto: Nicolai Prebensen, Ole Martin Buene, Arild Danielsen.
Illustrasjoner: Storm Studios AS.
Layout: Emil Torjul
Ad blocker interference detected!
Wikia is a free-to-use site that makes money from advertising. We have a modified experience for viewers using ad blockers

Wikia is not accessible if you've made further modifications. Remove the custom ad blocker rule(s) and the page will load as expected.