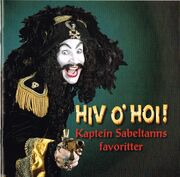 Hiv o' hoi - Kaptein Sabeltanns favoritter
er et samlealbum som ble utgitt i 2006 av Grappa Musikkforlag AS. Albumet har to disker. Albumet er ganske likt med det
Kaptein Sabeltanns verden
som ble utgitt med unntak av at noen låter er fjernet, å at nye låter har kommet til

Albumet innholder de mest kjente sangene fra Kaptein Sabeltanns univers. Som blandt annet "Sjørøverne kommer", "Ai, ai kæpten" og "Livet er herlig." 
Sporliste
Edit
"Disk 1
2. "Venner"
3. "Pinkys sang"
4. "Her vi bor"
5. "Sjørøversang"
6. "Langemanns sang"
7. "Bursdagssang"
8. "Sabeltanns lov"
10. "Flammenes herre"
11. "Hver gang en stjerne faller"
12. "Å, for et liv"
13. "Jeg kommmer alltid tilbake"
14. "Vi seiler vår egen sjø"
15. "Livet er herlig"
16. "Sjørøvernatt"
17. "Den Sorte Dames ouvertyre"
18. "This is home"
Disk 2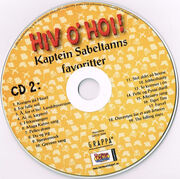 1. "
Kongen på havet
"
2. "For fulle seil"
3. "Å for et liv, (landsbyversjon"
4. "Ai, ai kæpten"
5. "Heksesangen"
6. "Maga Kahns sang"
7. "Pelles Drøm"
8. "Du og jeg"
9. "Sjørøverrock"
10. "Grevens sang"
11. "Stol aldri på henne"
12. "Jobbeshanty"
13. "To kvinner i en"
14. " Pelle og Pysas duell"
15. "Miriams sang"
16. "Tiger Tim"
17. "Farvel"
18. "Ouvertyre for et nytt årtusen"
19. "The falling stars"
Ad blocker interference detected!
Wikia is a free-to-use site that makes money from advertising. We have a modified experience for viewers using ad blockers

Wikia is not accessible if you've made further modifications. Remove the custom ad blocker rule(s) and the page will load as expected.