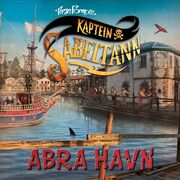 Abra Havn er en singel som ble utgitt i 2012, av Egmont Serieforlag/ Grappa Musikkforlag 
Den innholder kun sangen [[Abra Havn] (sang)|Abra Havn]], den ble utgitt i forbindelse med åpningen av Abra Havn (sjørøverlandsby).
Sporliste
Edit
1. Abra Havn  (3:23)
Produsenter: Alf Emil Eik og Terje Formoe
Arrangør: Alf Emil Eik
Medvirkende
Edit
Kaptein Sabeltann: Terje Formoe (spor 1)
Ad blocker interference detected!
Wikia is a free-to-use site that makes money from advertising. We have a modified experience for viewers using ad blockers

Wikia is not accessible if you've made further modifications. Remove the custom ad blocker rule(s) and the page will load as expected.